Connecting into the National Grid
The electricity generated by Gate Burton Energy Park is expected to be exported into the existing electricity transmission system at National Grid's Cottam substation in Nottinghamshire.
Initial studies we carried out have identified three broad route corridor options within which a connection from the energy park to Cottam substation could be routed.
Work is underway to refine these corridors so we can select which corridor meets the objective of minimising environmental and social impact, and then determine the alignment the connection will take within it.
What is a route corridor?
A route corridor is a broad ribbon of land through which an electrical connection could potentially be routed. A corridor will typically vary in width. For the Gate Burton Energy Park the width of the corridors vary from between 100 metres in some places to just over 1km in others.
Building the connection
The connection could be built using cable installed underground or running on overhead lines. The voltages for the cable - whether it is installed underground or on overhead lines - would range from 132kV to 400kV.
We would anticipate that the connection for the energy park would be installed using underground cable. However, overhead lines remain an option at this stage, pending the findings from our ongoing environmental surveys that will determine whether there are any localised issues on any parts of the route corridor options that could prevent underground excavation.
The construction techniques and equipment we would use to build a connection for Gate Burton Energy Park all have different properties affecting how, when and where they can be used.
Off-site substation
An off-site substation is also being considered as part of the design process to provide a connection point for the energy park to input power onto the network.
This would consist of electrical infrastructure including transformers, switchgear and metering equipment to enable the electricity generated by the energy park to be exported onto the national grid. A control building would be located within the footprint of the substation.
The exact location of this substation has not yet been determined but we anticipate it would be close to Cottam substation.
Route corridors map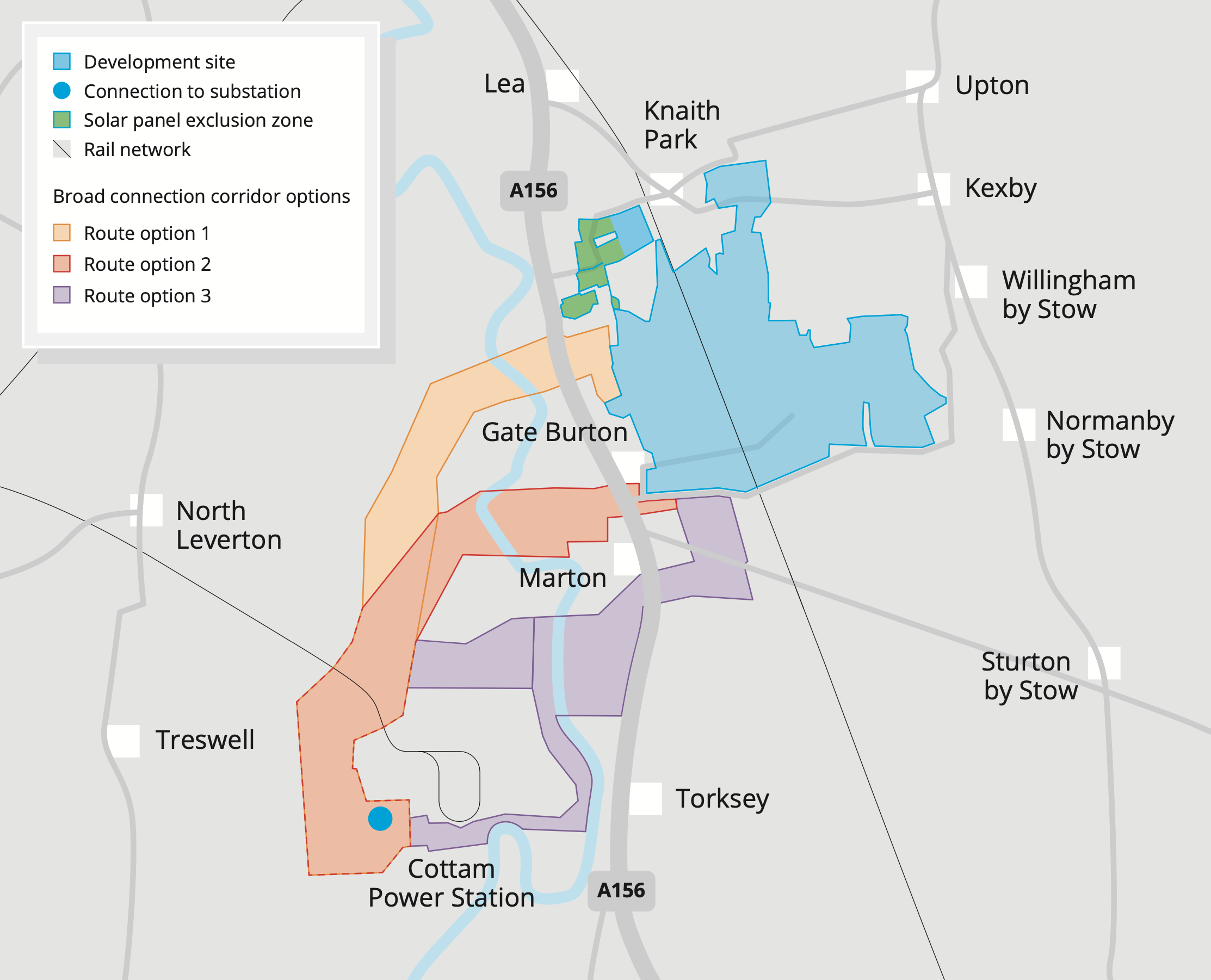 Click image to enlarge
Pinch to zoom
Building the connection