Home
Gate Burton Energy Park
Gate Burton Energy Park is a proposed new solar and battery storage project that Low Carbon is proposing to develop on land near Gate Burton, Lincolnshire.
The full extent of the land available to deliver this project, along with the location of the National Grid substation at Cottam Power station where it would connect into the existing electricity transmission system, is shown on the Site Location Map.
Gate Burton Energy Park is anticipated to have a generation capacity of 500 megawatts (MW). This is equivalent to providing enough clean energy to power over 160,000 homes and avoid more than 100,000 tonnes of CO2 emissions every year.
The amount of electricity the scheme could generate means that it is classified as a Nationally Significant Infrastructure Project (NSIP). This requires an application for a Development Consent Order (DCO) being submitted to the Planning Inspectorate. Ultimately consent will be determined by the Secretary of State at the department of Business, Energy and Industrial Strategy (BEIS). We anticipate the process of submitting an application for development consent and the subsequent examination taking between two and three years. Subject to achieving consent, construction would start no earlier than 2024.
What happens next?
We are at an early stage of the development process for Gate Burton Energy Park. As we evolve our plans, we will seek to strike an appropriate balance between the potential social, economic, and environmental impacts that our final scheme may have.
We believe this balance is best achieved by:
Consulting widely and effectively from an early stage in our project development process.
Being open with information and transparent about the decisions we make.
Developing proposals that deliver significant levels of renewable energy generation to secure the energy needs of Great Britain.
Preliminary work is currently being carried out to identify the most appropriate areas of the site for development. We are also in the process of determining potential routes for the electrical connection from the energy park into Cottam substation.
The findings from this work will be shared through an initial public consultation, which is anticipated to take place in early 2022, with further consultation then taking place at key stages in the ongoing project development process. These consultations will be well publicised in advance and structured to be as accessible and engaging as possible, giving you access to information on our proposed development and the opportunity to have your say.
This website is under development and will be updated in due course as the project progresses.
If you would like to be notified directly as information becomes available, please register your details with us here.
Gate Burton - Site Location Map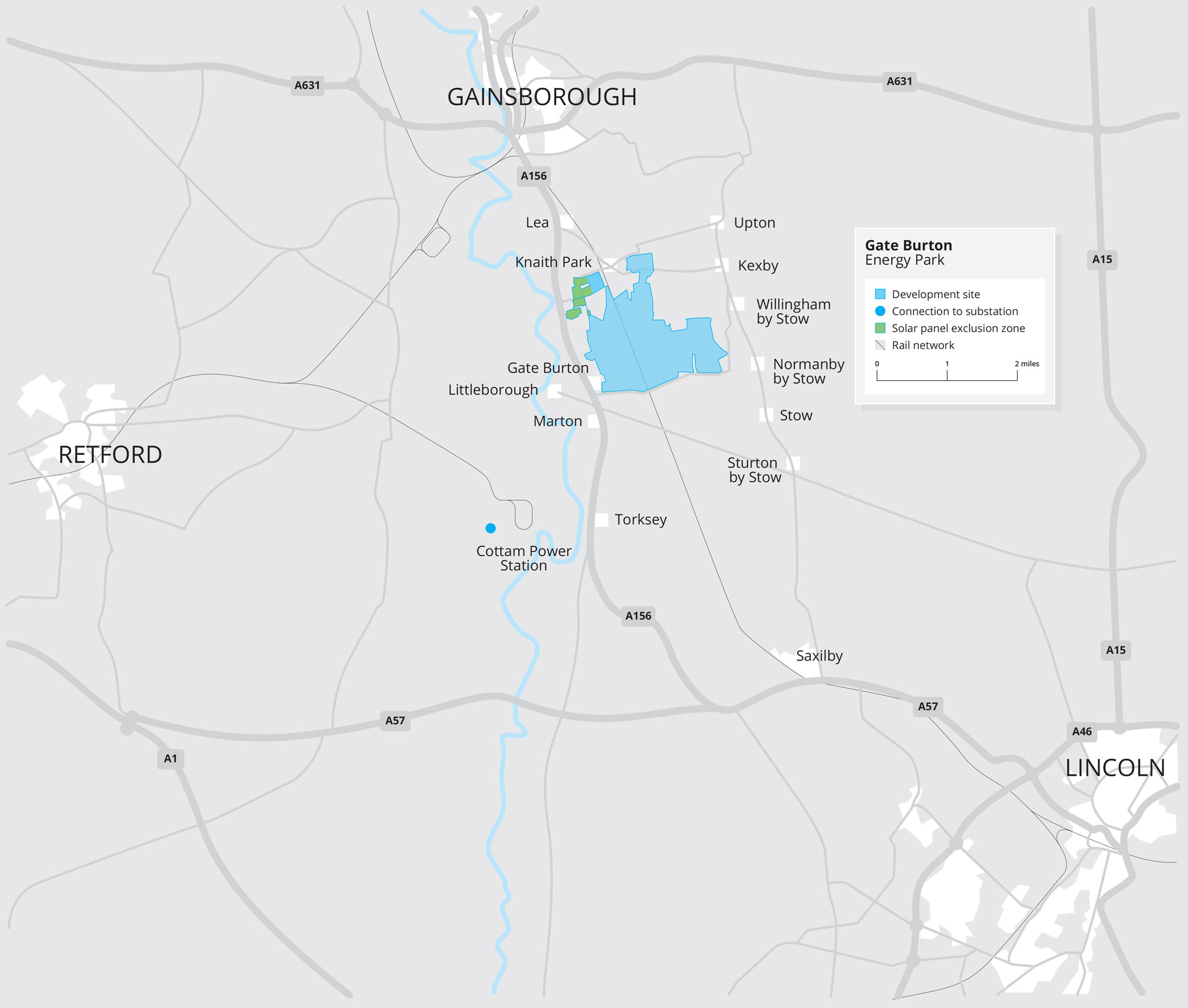 Click image to enlarge Pinch to zoom
Gate Burton - Timeline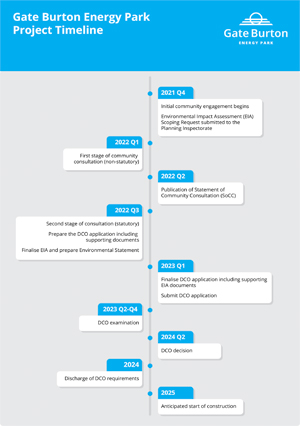 Click image to enlarge Pinch to zoom
Download