Gate Burton Energy Park
Low Carbon is developing proposals to build a new solar and energy storage park, along with the infrastructure needed to export the electricity it generates onto the national grid.
Gate Burton Energy Park is proposed as being built on land near Gate Burton in Lincolnshire. The electricity the proposed energy park generates will be exported via a connection into the existing national electricity transmission system at National Grid's Cottam substation in Nottinghamshire.
The project is anticipated as having a generation capacity of around 500 megawatts (MW). This is equivalent to providing enough clean energy to power over 160,000 homes and avoid more than 100,000 tonnes of CO2 emissions every year.
UK Government has set ambitious targets to reach net zero by 2050. The recently published Energy Strategy detailed the aim to increase the UK's solar capacity five-fold by 2035 - equivalent to around 70 gigawatts (GW) total generation capacity. Gate Burton Energy Park would deliver a significant level of renewable energy generation and make a vital contribution to supporting our transition to a low carbon energy system while securing the energy needs of Great Britain.
The amount of electricity Gate Burton Energy Park could generate exceeds 50MW. It is therefore classified as a Nationally Significant Infrastructure Project (NSIP). This requires us to submit an application for a Development Consent Order (DCO) to the Planning Inspectorate.
We anticipate that the development process for the project through to DCO submission and then examination will take between two and three years. Subject to achieving consent, construction would start no earlier than 2025.
Where we are now
The Development Consent Order (DCO) for Gate Burton Energy Park is currently being examined by the Planning Inspectorate. You are able to register your interest in our proposals directly with the Planning Inspectorate here, who will then inform you about the progress of our application. The expected deadline for the close of examination is 4 January 2024.
As part of our application, we produced a report here summarising consultation carried out, comments received, and how we have had regard to it. This is called the Consultation Report and it was submitted with the rest of our DCO application. All the documents produced for our DCO application are available here on the Planning Inspectorate's website or here on our website.
Survey work
To develop our proposals for Gate Burton Energy Park we are carrying out a variety of environmental and engineering surveys to identify the most appropriate areas of the site for development, along with the route an electrical connection from the energy park to Cottam substation could follow.
You may notice the presence of our teams carrying out various ecological and geophysical surveys in the area. To ensure we are engaging with the relevant individuals as our proposals evolve, we have appointed Gateley Hamer to act on our behalf and speak with landowners to confirm about their interests in land and details of any occupiers.
Contact us
You can contact our Community Relations team by:
Tel: 0800 860 6259 (open Monday - Friday 09:00 - 17:30)
Writing to us at: FREEPOST GATE BURTON ENERGY PARK
You can also use the contact form here.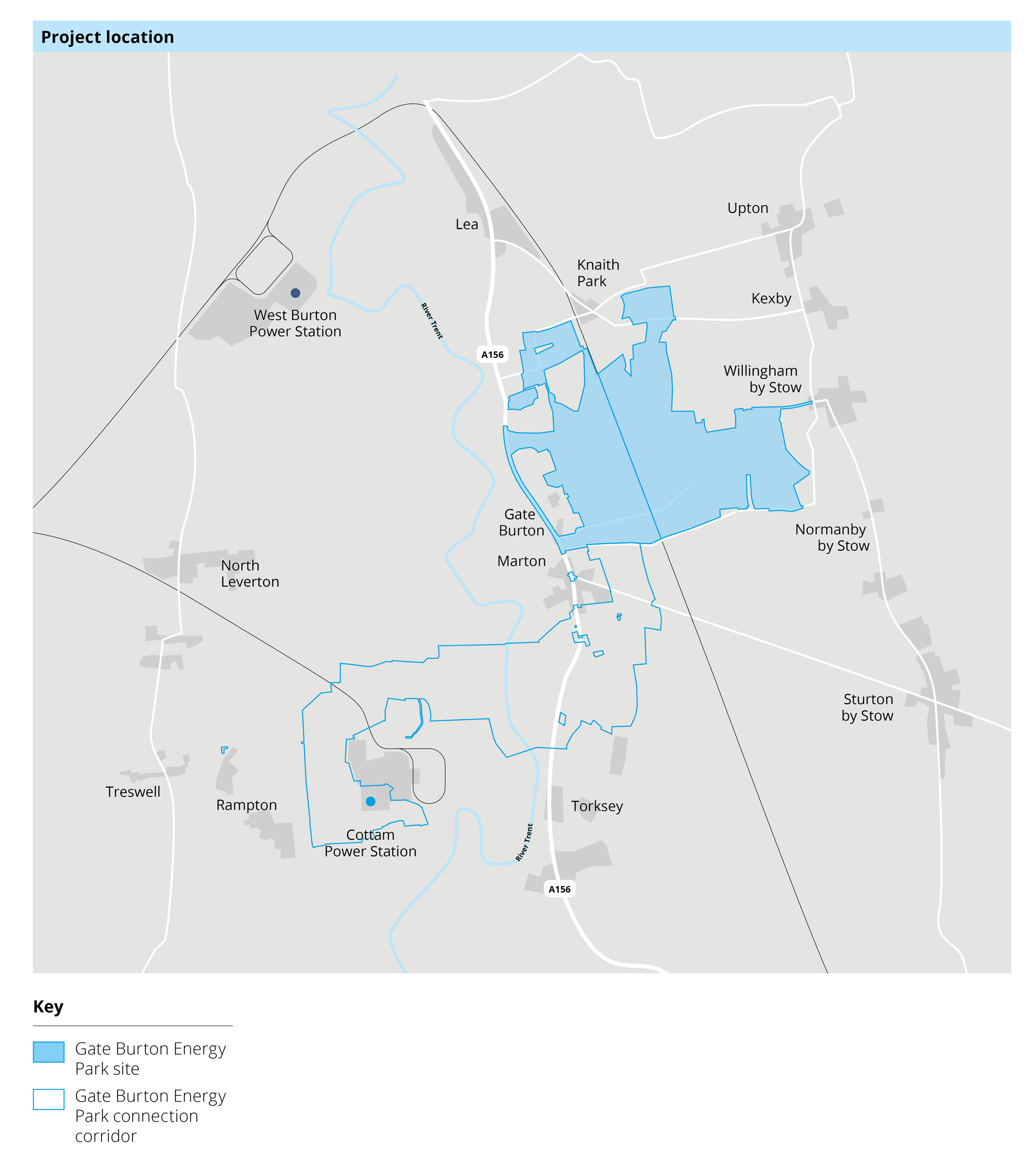 Project location