Stage One Consultation - Jan 2022
This consultation has now closed.
We carried out a first stage of non-statutory consultation on our emerging proposals for Great Burton Energy Park between 11 January and 18 February 2022.
Primarily aimed at introducing Low Carbon and presenting our emerging proposals for the solar energy park, this initial consultation gave individuals and interested parties living and working in the area the opportunity to inform and influence our proposals from an early stage in the development process.
Copies of consultation materials and technical documents we produced for Stage One Community Consultation can be found here.
Over the course of this consultation we held five in-person events and two online webinar events. events. Thank you to everyone who came along to in-person and virtual information events we held.
Recordings of these webinars are available to view and download from our project website here.
Stage One Consultation - Online webinar events
We received a significant level of feedback over the course of this consultation and are grateful to everyone who took the time to provide us with their views and suggestions on our emerging proposals.
Further to the consultation closing we reviewed all the feedback you submitted – using it to better understand those aspects of our proposed scheme you want us to prioritise as we continue to develop our proposals.
All the comments submitted to the consultation have, together with the findings from our ongoing environmental and technical studies, been taken into consideration as we have continued to refine and shape detailed plans for the project, forming the focus of a second statutory stage of consultation.
A summary of feedback received during our initial consultation and how we have had regard to it when refining our proposals is set out in the Non-Statutory Consultation Feedback Report. You can view a copy of this report HERE.
Stage One Consultation Feedback Report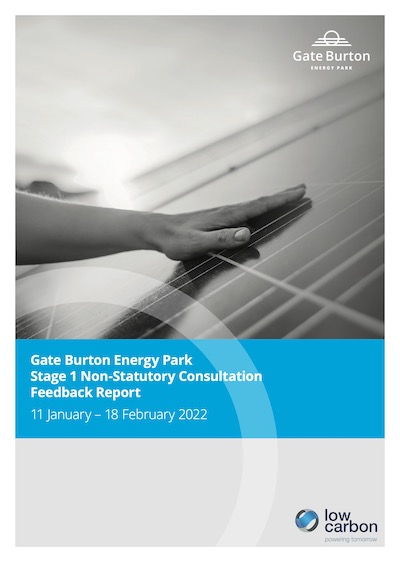 We have produced a report summarising all the feedback received during this consultation and how we have had regard to it when refining our proposals for Gate Burton Energy Park.
Consultation Feedback Report